Mitsubishi Electric in Malaysia
CSR
As a multinational company we feel we are not only responsible for our customer's well-being in the day-to-day running of our business, but also that of the environment & society as a whole. Therefore we have Community Outreach programmes that provide sponsorship or organize activities.
Mangrove Tree Planting Program 2016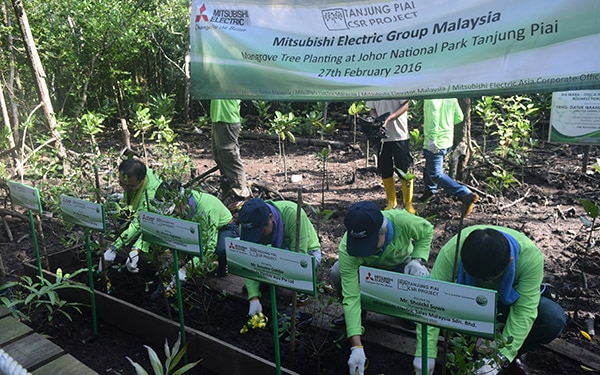 In 27 February 2016, Mitsubishi Electric Companies in Malaysia had organised a CSR activities - Mangrove tree planting program at Tanjung Piai, Taman Negara Johor. This activities involve Mitsubishi Electric group companies - Mitsubishi Electric Sales Malaysia, Mitsubishi Electric Malaysia, Mitsubishi Elevator Malaysia and Mitsubishi Electric Asia Corporate Office. It is a succesfull CSR event that involve 20 students from Sekolah Kebangsaan Senai. A total 300 mangrove tree plant to save our enviroment.